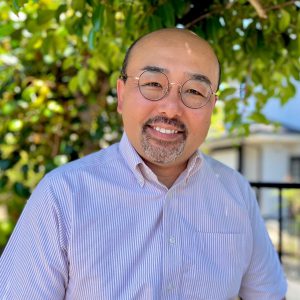 I'm pleased to meet you! Welcome to the homepage of Crossroad Church!
I'm Fumikazu Chito, the senior pastor. I have an uncommon surname and people sometimes think I'm a Mexican. People call me Fumi-sensei at church.
Born and raised up in Osaka, I grew up watching Yoshimoto Company comedy shows on Saturday and eating sweet kitsune udon and piping hot okonomiyaki. I am of course fluent in Japanese, though with an Osaka accent. It's standard Japanese I struggle with!
I enjoy playing the guitar and bass fishing, as well as having barbecues at home with my friends and family!
There are two things that are really precious to me: my family and the church.
In 1998, I got to marry the woman of my dreams. Then we were blessed with two children, who are now all grown up. In June 2020, our family welcomed a new member; a dog from a rescue shelter named Andy!
Then there is "Nishinomiya Crossroad Church", which I started with 10 friends in 2004. I love this family even as it's grown bigger over time and more people have joined. It's been a family where we've loved, accepted and forgiven each other in the good times and the bad. It's a family that's very dear to me.
There is so much joy in coming to know Jesus together as a community! We want to invite you to share in that joy and welcome you into this part of God's family: Crossroad Church! Please come and join us.
We look forward to meeting you!